MHL Micro USB to HDMI cable adapter-the killer of Micro HDMI cable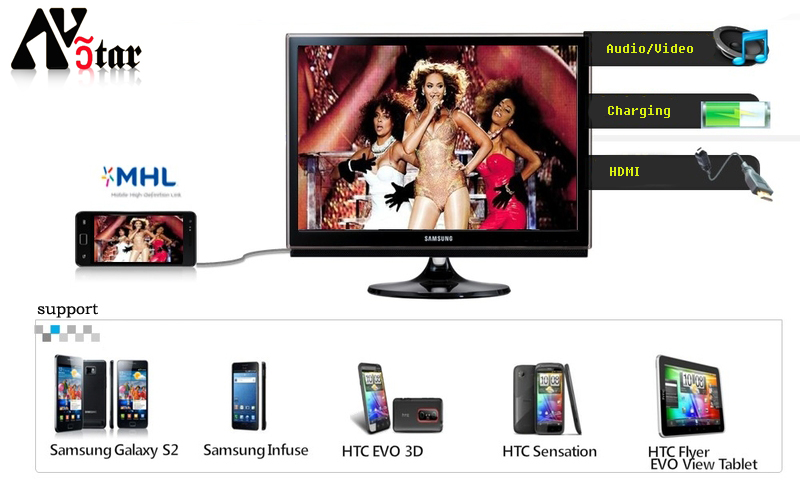 AV star's MHL have been mass production,The killer of Micro HDMI cable.
About MHL,
The MHL (Mobile High-Definition Link) Consortium was formed to develop a new mobile audio/video interface standard for directly connecting mobile phones and other portable consumer electronics (CE) devices to high-definition televisions (HDTVs) and displays. The MHL standard features a single cable with a low pin-count interface able to support up to 1080p high-definition (HD) video and digital audio while simultaneously charging the connected device.
The HDTV charges the connected device. The goal is to always keep the mobile device in a ready-to-use state.
Uses a single, thin cable to connect the mobile device to the HDTV.
The HDTV remote will control the connected device with guaranteed mixed manufacturer interoperability.[1]
1080p uncompressed HD video.
8 channel (e.g., 7.1 surround sound) uncompressed audio.
Supports High-bandwidth Digital Content Protection (HDCP).
MHL is connection agnostic (i.e., not tied to a specific type of hardware connector). The first implementations dual-purpose the most popular mobile connection (micro USB) and the most popular HDTV connection (HDMI). Other than the connectors being used, no USB nor HDMI technology is being used. It is exclusively MHL signalling through the connectors and over the cable. Other proprietary and custom connections are also allowed.
By transporting the digital content in digital form, the full impact of the picture (whether still images or video) can be seen on HDTVs.
share
News
Product Category
contact online